Welcome to the Fairy Tail Fans Club Wiki
Edit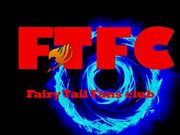 Selamat datang di FTFC wikia yang kami sendiri mengakui kalau ini gaje ==
Di wikia ini memberi informasi tentang member dan admin-admin yang ada pada FTFC. Walau pun ini sangat gak jelas (gaje) tolong dimaafkan karena kami semua juga masih dalam masa sulit tahap belajar.
Admin FTFC memiliki kurang lebih 10 admin. masing-masing admin memiliki kepribadian yang berbeda. ada yang sabar, sangar, pendiam, hentai, tukang ngambek. tapi diantara semua sifat itu, ada satu sifat yang paling menonjol yaitu GILA. admin di FTFC juga ramah terhadap para member FTFC, sehingga tidak pernah terjadi perselisihan atar admin vs admin, admin vs member atau pun member vs member. selain itu admin FTFC juga selalu memberikan informasi yang baik dan berguna bagi nusa dan bangsa para member agar tidak tersesat di jalan setan (?).
FTFc_Fanfic Disini berisi Fanfic-fanfic buatan para member or admin FTFC. well bisa dibilang disini itu tempatnya unjuk gigi untuk para member or admin yang bisa bikin cerita. yah walau pun ceritanya gaje, tapi tak apa lah yang penting karya sendriri XD.
Ad blocker interference detected!
Wikia is a free-to-use site that makes money from advertising. We have a modified experience for viewers using ad blockers

Wikia is not accessible if you've made further modifications. Remove the custom ad blocker rule(s) and the page will load as expected.